News
10 June 2015
Pre-Order your copy of "refugeeum" NOW!
you can PRE-ORDER our new album REFUGEEUM now in our bandshop. Release date is 24th july but you can order now and get your copy in time until/before the 24th july. We offer superheavy classic black double-vinyl incl. free CD, a special strictly limited edition of WHITE vinyl (2LP, superheavy, free CD) and a traditional digisleeve-CD. Go, make your choice!
22 May 2015
REFUGEEUM Tracklist
BLACK SPACE RIDERS new album "REFUGEEUM" will be released on the 24th july 2015 via Black Space Records / CARGO Records. An album and a statement .... about refugees, expulsion and escape. Please have a look at the great cover artwork by our dear friend Jakob Maser. This is the tracklist:
1. Vortex Sun
2. Universal Bloodlines
3. Born a Lion (Homeless)
4. The Lure (Come with us)...
5. Run to the Plains
6. Curtains of Death
7. Melek´s Lament (Yazidi Tears)
8. Walking Shades
9. Ritual of inner Strength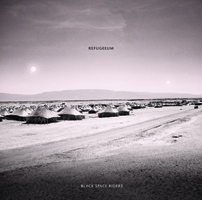 09 May 2015
"REFUGEEUM" - new album this summer
"REFUGEEUM" is the title of BLACK SPACE RIDERS' new album which will be released this summer. It's an album about refugees ... about expulsion and escape.
17 March 2015
BLACK SPACE RIDERS will enter the studio soon
In the end of march we will be starting to record our 4th album. Never change a winning team! We are very happy to record at "die Tonmeisterei " in Oldenburg , again with our dear friend Role Echolotse, who also took care for our our last album "D:REI" as well as for the both albums before. We are hoping to release the new album this summer (2015). Keep contact, we will keep you up to date with pictures and information during our recording time.