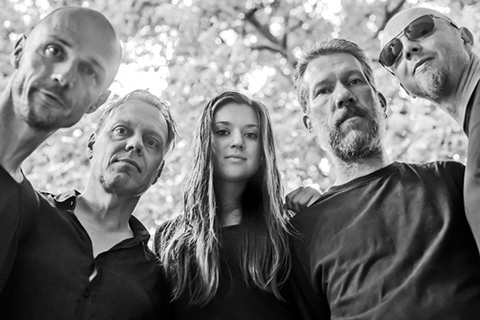 "Founded in late 2008 by JE, SLI, SAQ and C.RIP, BLACK SPACE RIDERS embarked on a mission to discover their very own claim in the vast quadrants of heavy music. Their means have been well-chosen from the beginning: The power of the almighty riff. An organic, timeless sound, oozing with atmosphere, that shifts effortlessly from crushing heavyness to the quietest moments of introspection, and all the spaces in between. Enormous supplies of drive and groove. A keen sense of purpose and direction.
Their journey is marked by milestones in the form of their previous, internationally acclaimed records: 2010's self-titled debut, bursting with conviction. "Light Is The New Black" (2012) demonstrates their ability to explore diverse moods without missing their unique trademarks even for a split second. 2014's "D:REI" – the first album to fully integrate new band member SEB as the second lead singer – fathoms the depths and nuances of their sound with more detail than ever before. All records have been accompanied by powerful and engaging live shows.
BLACK SPACE RIDERS latest album REFUGEEUM shows the band's attention to the here and now. In the pivotal year of 2015 the band do not turn their eyes toward escapism – as you might expect of a group often dealing with sci-fi related subject matter - but to events on our own planet Earth. REFUGEEUM conveys themes that are both current and universal: eviction, the loss of family, friends and one's former life. Being preyed upon. Isolation. But also hope, persistence and the absolute will to survive. These topics have been echoing within BLACK SPACE RIDERS music from the very beginning and to an increasing degree – now with a minute adjustment of the lyrical lens they make for a very powerful statement. What might appear as a "change of direction" is an application of the band's thematic core to the most relevant perspective.
Musically BLACK SPACE RIDERS have become a well-honed entity. On REFUGEEUM their hard rocking foundation stays firmly in place, while their knack for sonic exploration provides a wide spectrum of moods that complement the album's central themes. The record features some of the darkest moments the band has ever created, yet at the same time is astonishingly uplifting and empowering, inspiring and reassuring. The arrangements are masterfully varied - explosive four minute bangers, sprawling epics, subtle tension crawls, calmness in the eye of the storm, psychedelic vibe – it's all there. You might even find the occasional electronic beat, thinking nothing about it except how perfect a fit for the moment it is.
Now in 2016 REFUGEEUM is expanded by a complementary collection of songs in the form of BEYOND REFUGEEUM EP. While being a close companion to the album thematically, BEYOND REFUGEEUM is a satellite release in terms of songwriting and style. Four new, previously unreleased songs from the same recording session as REFUGEEUM and two remixes show the band broadening the palette of their sound even a little further. While still unmistakably rooted in BLACK SPACE RIDERS own traits and accessible as ever, these songs orbit into - for example - the realms of synthscapes and even a surprising bit of funk.
BLACK SPACE RIDERS have claimed their territory and made it into a REFUGEEUM for those in need. Welcome."
Andreas Wolkow
BLACK SPACE RIDERS:
JE: lead vocals, guitars, melodies, riffs, words
SEB: lead vocals, melodies, words
C.RIP: drums, vocals, additional songwriting
SLI: guitars, additional songwriting
SAQ: bass guitar, additional songwriting (2008-2017)
MEI: bass guitar (since 2017)
Discography:
2010: s/t
2012: Light is the new black
2014: D:REI
2015: Refugeeum
2016: Beyond Refugeeum
2018: Amoretum Vol. 1
2018: Amoretum Vol. 2
C.RIP plays Yamaha Drums