News
10 January 2014
New Song available
NEW song avaialble as download and stream NOW: The track Bang Boom War (Outside My Head) from BLACK SPACE RIDERS' new Album D:REI (release date 24th january) is available as from today on all digital platforms like (streaming) Spotify, Simfy, Napster, Deezer, Wimp, Ampya or (download) itunes, amazon, GooglePlay, musicload, 7digital.com and many more. The track is part of the compilation "2014: The Best Is Yet to Come" by cargo digital, which features 20 Alternative-, Indie and Rock-Artists ... so if you are eager and don't want to wait until the 24th of january .... go and get the track right now! Just search for Black Space Riders / Bang Boom War (Outside my head) on your favourite platform.
08 January 2014
Another video online
In three weeks we are going to release our new album D:REI. Here is an advance-video-clip for you. The song is called GIVE GRAVITION TO THE PEOPLE. Really hope you like it!!! If so please share the clip around the world!!! A big THANK YOU to BM67, Andi Weimann and SKE who were involved in creating the clip!
http://www.youtube.com/watch?v=1-TuJ2nVybQ
13 December 2013
Tracklist and cover
D:REI is going to arrive soon (24/01/2014). Time to share the Cover-Layout and the tracklist with you!
D : DEFIANCE
1. STARE AT THE WATER
2. BANG BOOM WAR (OUTSIDE MY HEAD)
3. RISING FROM THE ASHES OF OUR WORLD...
R - RUINS
1. GIVE GRAVITATION TO THE PEOPLE
2. WAY TO ME
3. TEMPER IS RISING
4. THE GOD-SURVIVOR
E - ESCAPE
1. I SEE
2. LEAVE
3. SPACE ANGEL (MEMITIM)
I - BEYOND
1. MAJOR TOM WAITS
2. LETTER TO A YOUNG ONE
3. THE EVERLASTING CIRCLE OF INFINITY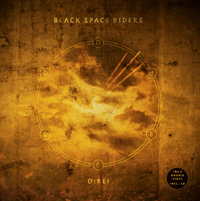 11 December 2013
Lyric video online
Interested in a first impression of our new album D:REI? Difficult to pick a typical song because there is not "THE" typical song on the album ... here's a track called "The GOD-Survivor". Hope you like it and if so please share it around the world!!!! Spread the word!!!!
25 November 2013
Release date and shows
BLACK SPACE RIDERS' new album "D:REI" will be released on the 24th of January 2014. We have decided to keep our independency and all our rights, meaning the album will be released under our own label BLACK SPACE RECORDS. It will be distributed by Cargo Records Germany and different national distributors and mailorders in other countries as well as by ourselves.
We will play three exclusive record-release-shows in Germany:
24.01.2014 Münster / Gleis 22
30.01.2014 Hamburg / Hafenklang
31.01.2014 Köln / MTC Cologne
More tourdates in spring will follow soon.